Pomegranate – Powerful Fruit, Powerful Nutrition
A pomegranate is one of those fruits or vegetables that you can easily miss in the store if you are not paying attention.  Carrots – check.  Corn – check.  Apples, bananas, kale and oranges – check AND check.  But what about that purplish fruit sitting over there in the bin – what can a pomegranate offer that the others items in my basket can't offer to me?  What are the health benefits of adding a pomegranate into my diet?
The pomegranate is mainly a tropical born plant, with heavy roots in ancient times.  As the world has changed, so has the expansion of the growing of pomegranates, which can now be found world wide as the market has increased and people become more aware of the health benefits of this wondrous, tangy fruit seed.  Although not always available everywhere all the time, there are typically pomegranate products available year round, and for those that value their fruit, the ability to order from growers all over the world.
Pomegranate Health Benefits
Let's start with the first item on everyone's mind these days – calories.  We know that most fruits will add calories to what we are eating, so how does the pomegranate add up when listed next to other fruits?  The small seeds and fruit pods of the pomegranate, called arils, have very little calories in them, with most of the calories residing in the seed itself.
Just one cup of pomegranate seeds has only 140 calories – add to this a healthy dose of fiber, along with Vitamin C and Vitamin B-6, and you have a great energy booster and nutrition addition.  Pomegranates can also be added to salads, pasta, chicken; almost any dish you can create, which will add a tangy treat to your meal.  For a small simple fruit, it adds a flavor that truly cannot be found anywhere else, and when you add in the nutrition components, it is easy to see the health benefits that a pomegranate has to offer.
So what is a pomegranate good for?
Many people are trying to improve their health by adding things that can boost the nutrition and taste of something that they already enjoy.  If that is your goal, think about adding the fruit to things that you might add other fruits – yogurt, granola, salads and desserts just to name a few.  The juice of the pomegranate can be added to water for flavor, or even to soda to add some great flavor.  The juice alone is full of flavor, and many people opt to just drink it alone as an afternoon pick-me-up.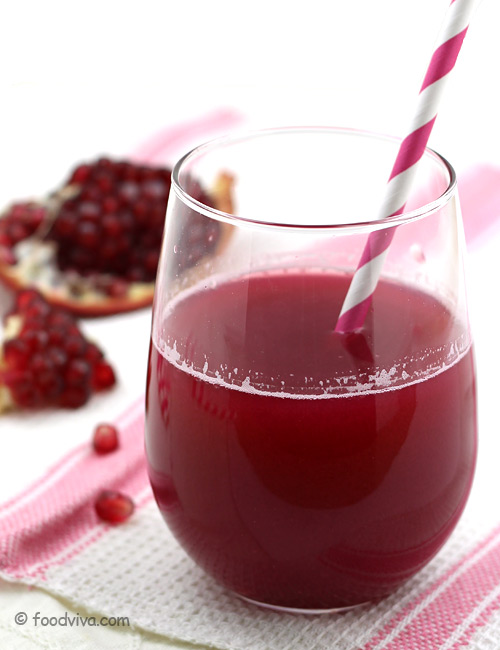 Knowing that this super fruit is filled with antioxidants, people often add it to their diet for role as an illness fighter.  When we watch the news, it is often filled with stories about the healing and nutrient powers of antioxidants – any time you can add more to your diet, the thought is that you are improving your health.  With a dark purple color and rich antioxidant power, the pomegranate can be one of those easy additions to improve your overall health.
Simple fruit – simple pomegranate nutrition
To make matters simple, thing of the pomegranate like this – you have a small seed that tastes great and can add a nutritional boost to your day at any moment.  With a little preparation before hand, you can take pomegranate seeds with you anywhere as a snack throughout the day, eliminating those cravings for sugary or salty snacks at midday crunch time.   If it seems to be a hassle to peel and pull out the seeds, you can also purchase the seeds already pulled from the peel!
There are many options for pomegranate products, including several juice varieties that are either straight pomegranate juice on its own or juice blends that harmonize many fruits together.   Whichever avenue you choose, the pomegranate will definitely become one of your favorite fruit additions for added health in the New Year.
Read Further The Benefits of the Pomegranate – Amazing Nutrition in a Small Package